We teach EFI Tuning!
Scroll all the way to the bottom to register, or read your way down if you want to know more about the classes.
Wish you knew what your tuner knows?   Would you like to be able to make your own tweaks at the track (or wherever!) to optimize your car's performance without having to rely on someone else?  Want to know how to interpret those datalogs?  Scott Clark is an EFI tuner with years of experience, and he brings that experience to you in a small classroom format (20 students or less) that gives plenty of personal time so he can focus on YOUR project goals.
Scott's focus lately is on street driven vehicles, drag and landspeed racing, with an odd mix of other motorsports and OEM experiences that he shares in detail during the classes.  His experience covers everything from Bonneville World Record setting projects, NHRA Pro Stock, top performing X275, Ultra Street, No Prep, and Street Outlaw cars, Ridler Award-winning show cars, high powered Sand Rails and offroad race vehicles, to high strung small displacement turbo import engines making over 10hp/ci.  He teaches the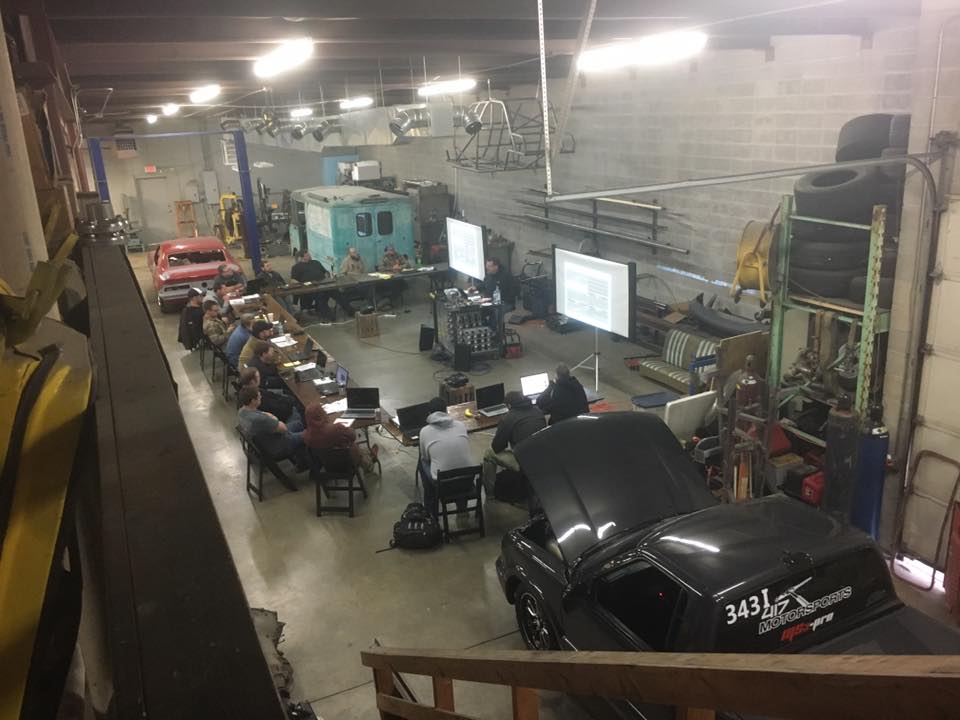 differences in all fuel types he's tuned:  pump and race gasolines, ethanols, methanol, nitromethane, propane, CNG and even wood gas! (did you know wood gas was a fuel for internal combustion engines?)
This class is not based on one specific manufacturer's ECU, instead it's designed to teach you the best practices that you need to apply to ALL custom engine and powertrain electronics.   It's called a "Basics" class, but he covers advanced topics such as Drag Race Power and Traction Management, Advanced Power Adders, Launch Tuning, etc.  This is a great class for learning how to maximize power in a low budget powerplant such as a turbo SBE LS, or 2JZ!  Many people don't understand proper Power and Ground applications in their cars, and what problems are caused by improper installation.  Scott teaches not only how to avoid those problems, but how to identify them without guessing!  Well prepared videos and slide presentation are used as examples along with datalogs that each student can access and follow along as each function is explained in detail, with plenty of time for you to ask questions or interact with instructor or your fellow classmates who will likely have great experiences to share with you, and we hope you share yours too!
Learn how to choose your own ECU based on what you NEED, not what the Internet or Social Media arguments tell you.   You'll be able to make an educated, money-saving choice that saves you hours or months of frustration as you complete your own, or your customers' projects.  Then, learn how to plan and execute the installation to maximize your time and minimize hassle.   After that, you'll learn how to test all your systems in the ca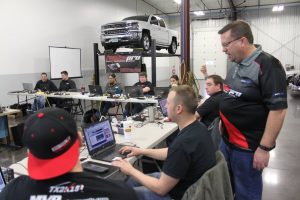 r before first start.  Finally, you'll learn how to take your tune from First Start all the way to Dyno and Track Testing.  If you're a grudge, no prep, or class racer – this is a great way to learn how to take over your own logging and tuning without having to rely on anyone but yourself!  Scott will teach you how to log data, what you're looking for, and how to improve performance based on that data.
We provide 2 days of instruction using a live vehicle on the chassis dynamometer, provide food and drinks during the class, and give you a Certificate when the course is complete.  You'll meet interesting people with all different experience levels from Beginner to Professional, and make friends along the way!  Read what some of our students and hosts had to say about RealTuners EFI Basics:
" We had a KICKASS g

roup!!!  Everyone from a guy that builds and tunes some of the fastest offshore boats in the country to the Honda/Subaru guy that knew basic Hondata and COBB software. Had a pair of LTx nitrous guys all the way to a Promod chassis tuner that had no clue about EFI or how to navigate it but wanted to learn!! Had haltech guys, Holley guys, pro efi guys, ms3 guys, Hp tuners guys and more!!  This is a KILLER class for ANYONE that is currently tuning, or wanting to learn! There is info to learn and even though he teaches the class based around the TunerStudio software, the same principles can be applied to ANY other software/brand.

"  -Blake Hughes, 417 Motorsports
"In a room with an Engine Master's challenge builder, a couple of Street Outlaws, several Drag Week racers, and other industry professionals. Scott Clark getting us learned up!" -Justin Carpenter, EFI Basics student, Oklahoma City Class 2017
"Realtuners class this has been a real good experience. Thanks Scott Clark. I would highly recommend this to anyone." – Jeremy Blair, ATI Procharger

Click Here to see Blake Hughes' turbo Sonoma preparing for Drag Week 2017
Scroll down for upcoming class schedules and to register for a class!!  $100 reserves a seat (nonrefundable deposit unless class is canceled).  We hope to see you there!